HAPPY FRIDAY TEA
2 June 2023
From 5pm to 9pm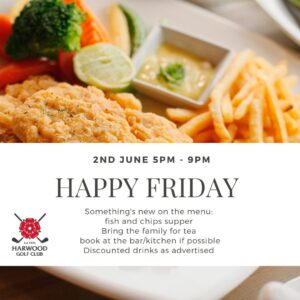 The first of our new Happy Friday tea time menus, to complement our  regular Happy Friday drinks offer, will be held on Friday 2nd June from 5pm – 9pm. These special tea time menus will be available on the first Friday of each month with the theme being notified in advance
The first of these events will be a Fish and Chips tea – why not bring the family? Please book your places directly with our new catering team in the kitchen from Tuesday 23rd May.
Please support your club and catering team in this new joint venture. We look forward to seeing you.
If you have a special food theme that you would like to be considered please email [email protected] and we will pass on your suggestions to our catering team.